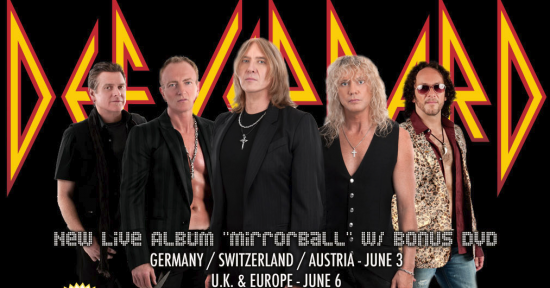 Def Leppard revient sur le devant de la scène avec 'Mirrorball', le tout premier album live du groupe.
L'opus sera composé de deux CD et comprendra un ensemble de morceaux enregistrés en 2008 et 2009, durant la tournée The Sparkle Lounge Tour. A noter surtout la présence de trois nouveaux titres studio, à savoir « Undefeated », « Kings Of The World » et « It's All About Believin ». L'album sera également accompagné d'un DVD contenant des performances live de la formation mais aussi des images tournées en coulisses.
La sortie de 'Mirrorball' est prévue le 6 juin prochain via Bludgeon Riffola/Mailboat Records..
Tracklist de 'Mirrorball' :
Disque 1
01. Rock! Rock! (Till You Drop)
02. Rocket
03. Animal
04. C'Mon C'Mon
05. Make Love Like A Man
06. Too Late For Love
07. Foolin'
08. Nine Lives
09. Love Bites
10. Rock On
Disque 2
01. Two Steps Behind
02. Bringin' On The Heartbreak
03. Switch 625
04. Hysteria
05. Armageddon It
06. Photograph
07. Pour Some Sugar On Me
08. Rock Of Ages
09. Let's Get Rocked
10. Action
11. Bad Actress
12. Undefeated (inédit)
13. Kings Of The World (inédit)
14. It's All About Believin' (inédit)