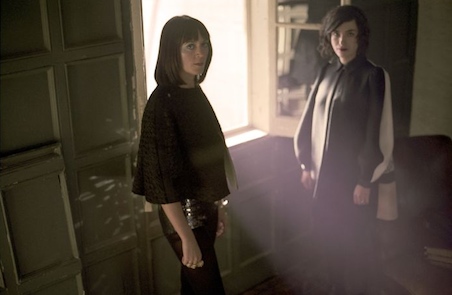 Ladytron fête cette année son 10e anniversaire. Pour marquer le coup, le quatuor electro-pop vient de sortir 'Best of 00–10', une collection regroupant les morceaux phares des albums '604' (2001), 'Light & Magic' (2002), 'Witching Hour' (2005) et 'Velocifero' (2008). On notera également la présence du single « Ace Of Hz » (sorti en novembre dernier) et d'une reprise de « Little Black Angel » du groupe Death in June.
Les fans de Ladytron ont également eu le droit à une édition deluxe du best-of. Le coffret inclut notamment un disque supplémentaire de 16 titres ainsi qu'un livret de photos (80 pages).
Tracklisting de 'Best of 00–10'
Disque 1
01. Destroy Everything You Touch
02. International Dateline
03. Discotraxx
04. Tomorrow
05. Soft Power
06. Fighting In Built Up Areas
07. Ghosts
08. Blue Jeans
09. Cracked LCD
10. Deep Blue
11. Seventeen
12. Light & Magic
13. Playgirl
14. Runaway
15. The Last One Standing
16. Little Black Angel
17. Ace Of Hz
Disque 2
1. The Reason Why
2. Whitelightgenerator
3. Mu-tron
4. Black Plastic
5. The Way That I Found You
6. True Mathematics
7. High Rise
8. Black Cat
9. Another Breakfast With You
10. USA vs. White Noise
11. Commodore Rock
12. Evil
13. Beauty*2
14. Season Of Illusions
15. Versus
16. All The Way
Pour rappel, Ladytron dispose également d'une collection impressionnante de remixes que l'on retrouve sur un autre Best-of. C'est plutôt ce volume que l'on recommandera aux fans qui ont déjà tous leurs disques. Pour les autres, chacun de leurs quatre albums fera l'affaire.
Pour terminer, sachez que Ladytron a dores et déjà annoncé la sortie d'un nouvel opus, 'Gravity the Seducer', pour le 13 septembre prochain. Enregistré avec Barny Barnicott (qui a déjà travaillé avec Arctic Monkeys) dans la campagne anglaise, il devrait être, d'après Daniel Hunt, « plus abstrait par endroit, empruntant des directions inédites, très baroque'n'roll ».