L'excellente BO de « Tron l'héritage » réalisée par Daft Punk pour Disney a engendré toute une gamme d'objets collector. Après moult figurines et goodies à l'effigie du duo, voici également l'arrivée d'une série de remixes.
Intitulé 'Tron Legacy R3CONFIGUR3D', ce projet voit notamment les contributions de Moby sur « The Son of Flynn », Boys Noize sur « End of Line » et du Français M83 sur « Fall ». Constitué de 15 pistes, l'opus sera décliné en version normale et deluxe. La sortie est prévue le 5 avril prochain.
Notons enfin que Daft Punk a aussi annoncé que la BO du film sortirait en édition limitée, double LP vinyle le 18 avril, avec « Sea Of Simulation » et « Sunrise Prelude », uniquement disponibles en téléchargements jusqu'à présent.
Tracklisting de 'Tron Legacy R3CONFIGUR3D'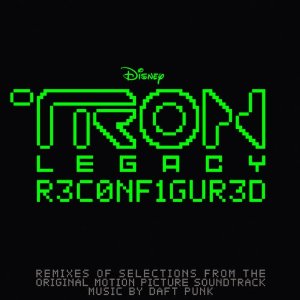 01 The Glitch Mob : « Derezzed »
02 M83 vs. Big Black Delta : « Fall »
03 The Crystal Method : « The Grid/Game Has Changed »
04 Teddybears : « Adagio for Tron »
05 Ki:Theory : « The Son of Flynn »
06 Paul Oakenfold : « C.L.U. »
07 Moby : « The Son of Flynn »
08 Boys Noize : « End of Line (Boys Noize Remix) »
09 Kaskade : « Rinzler »
10 Com Truise : « Enron Part II »
11 Photek : « End of Line »
12 The Japanese Popstars : « Arena »
13 Avicii : « Derezzed »
14 Pretty Lights : « Solar Sailor »
15 Sander Kleinenberg : « Tron Legacy (End Titles) »