Slash, le légendaire guitariste de Velvet Revolver et ex-membre des Guns N'Roses, sortira bientôt son 1er véritable album solo. Attendu pour le 12 avril 2010, cet opus sobrement baptisé « Slash » présente de nombreuses collaborations et pas des moindres : Ian Astbury (The Cult, The Doors), Chris Cornell (Soundgarden), Rocco DeLuca, Fergie (Black Eyed Peas), Dave Grohl (Foo Fighters), Myles Kennedy (Alter Bridge), Kid Rock, Lemmy Kilmeister (Motörhead), Adam Levine (Maroon 5), Duff McKagan (ex-Guns N'Roses, Loaded), M. Shadows (Avenged Sevenfold), Ozzy Osbourne, Iggy Pop et Andrew Stockdale (Wolfmother).
« L'idée de départ était simple. Ce ne sont que des artistes avec lesquels j'avais envie de créer. J'ai réellement été très impressionné par leur apport, ils se sont investis pour faire du bon travail. En plus, on s'est beaucoup amusé en faisant ces chansons ! », explique Slash.
L'album est produit par Eric Valentine (Queens of Stone Age, The All-American Rejects). Slash a assuré la plupart des arrangements et écrit tous les morceaux. A ses côtés : Chris Chaney de Jane's Addiction à la basse et Josh Freese de Nine Inch Nails à la batterie. « Slash » contiendra 13 titres avec un chanteur différent par chanson.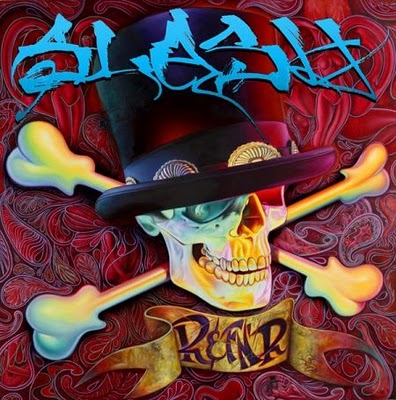 Tracklisting de « Slash » (avec le chanteur entre parenthèse) :
01. Ghost (Ian Astbury)
02. Beautiful Dangerous (Fergie)
03. Nothing To Say (M Shadows d'Avenged Sevenfold)
04. Crucify The Dead (Ozzy Osbourne)
05. Promise (Chris Cornell)
06. By The Sword (Andrew Stockdale de Wolfmother)
07. Doctor Alibi (Lemmy Kilmeister)
08. Saint Is A Sinner Too (Rocco De Luca)
09. Watch This (Dave Grohl/Duff McKagan)
10. I Hold On (Kid Rock)
11. Gotten (Adam Levine)
12. We're All Gonna Die (Iggy Pop)
13. Starlight (Myles Kennedy)