Dead By Sunrise est le projet solo de Chester Bennington, le chanteur principal du groupe Linkin Park.
Le premier album de Dead By Sunrise est déjà terminé. Produit par Howard Benson (Motörhead, My Chemical Romance), il s'intitulera Out of Ashes et devrait être disponible à l'automne sur étiquette Warner Bros.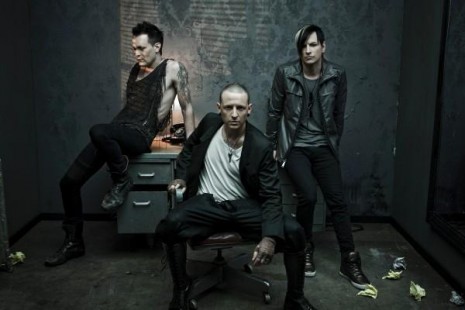 Pour former Dead by Sunrise, Bennington s'est entouré des guitaristes Ryan Shuck et Amir Derakh (Orgy, Julien-K), du bassiste Brandon Belsky, du batteur Elias Anda (Julien-K) et du claviériste Anthony Valcic.
Les chansons de l'album ont pris forme alors que Linkin Park prenait une pause avant l'enregistrement de l'album « Minutes to Midnight » en 2007. Le chanteur a déclaré dans un communiqué : « J'ai composé quelques chansons qui sonnaient très bien et que j'appréciais. Toutefois, je savais qu'elles ne correspondaient pas au son de Linkin Park. Elles étaient plus sombres que le matériel que j'avais jusqu'à présent créé pour le groupe. J'ai décidé de bosser sur ces pièces de mon côté plutôt que de les transformer en morceaux de Linkin Park »
Chester Bennington a aussi affirmé que la musique qu'il a écrite pour Dead by Sunrise est plus noire, plus sexy et plus personnelle que ces chansons précédentes. « On n'y retrouve aucune influence hip-hop ».
Le 4 juillet 2009, un concert acoustique a été joué a Las Vegas. Les chansons « Morning After », « Let Down », « Walking in Cercles », « In The Darkness » et « Crawl Back In » ont été interprétées. Très probablement on retrouvera ces titres sur Out of Ashes.
Voici la chanson « Morning After »

Dead By Sunrise « Morning After »
Caught up against the wall again
tied and chained to the ball again?
It never seems to amaze my mind
So i just sleep sleep sleep sleep sleep sleep
Please don't…
Wake me til the morning after
Wake me til the morning after
Cut and bruised by the fall again
Lick my wounds like a dog again
Is that a light at the end of the tunnel that
I see I see please let it be but don't…
Wake me til the morning after
Wake me til the morning after
Wake me til the morning after
I'm so tired, there has got to be an end
To the pain I feel when I'm awake and alive alive alive
Alive and not dreamin…oh
Caught up against the wall again
tied and chained to the ball again?
It never seem to amaze my mind
So i just sleep sleep sleep sleep sleep sleep
Please don't…
Wake me til the morning after
Wake me til the morning after
Wake me til the morning after
I'm so tired, there has got to be an end
To the pain I feel when I'm awake and alive alive alive
Alive and not dreamin