Le groupe vient tout juste de livrer le clip de « 21st Century Breakdown », extrait de son album de même nom sorti le 15 mai dernier. La vidéo donne l'illusion de suivre une bande dessinée animée qui retrace une société américaine en proie au déclin et à la révolte.
On vous laisse savourer le clip vidéo de « 21st Century Breakdown », les paroles sont par ici :
Green Day – « 21st Century Breakdown »

21st Century Breakdown (titre que l'on pourrait traduire par « L'effondrement du XXIe siècle ») est le huitième album studio de Green Day et leur second opéra rock. Il contient 18 chansons réparties en trois actes. L'opéra raconte l'histoire des personnages Christian et Gloria, perdus dans l'Amérique post-Bush jr, qui doivent « prendre soin l'un de l'autre, car personne d'autre ne prendra soin d'eux » comme l'expliquent les magazines. Billie Joe Armstrong, le leader du groupe, décrit ce nouvel opus comme un style Power-Pop.
Ce nouvel album a été produit par Butch Vig, producteur de Nirvana pour Nevermind, de Garbage ou encore de The Smashing Pumpkins pour Siamese Dream et Gish.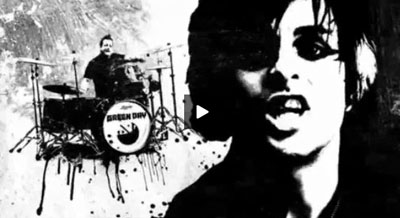 Voici le tracklisting de 21st Century Breakdown:
1. Song of the Century – 0:57
Acte 1 : Heroes and Cons
2. 21st Century Breakdown – 5:09
3. Know Your Enemy – 3:10
4. ¡Viva la Gloria! – 3:30
5. Before the Lobotomy – 4:37
6. Christian's Inferno – 3:07
7. Last Night on Earth – 3:56
Acte 2 : Charlatans and Saints
8. East Jesus Nowhere – 4:34
9. Peacemaker – 3:24
10. Last of the American Girls – 3:51
11. Murder City – 2:54
12. ¿Viva la Gloria? (Little Girl) – 3:47
13. Restless Heart Syndrome – 4:21
Acte 3 : Horseshoes and Handgrenades
14. Horseshoes and Handgrenades – 3:14
15. The Static Age – 4:16
16. 21 Guns – 5:21
17. American Eulogy (A. Mass Hysteria & B. Mordern World) – 4:26
18. See The Light – 4:35
Formé en 1986 à Berkeley en Californie, Green Day est composé du guitariste et chanteur Billie Joe Armstrong, du bassiste Mike Dirnt et du batteur Tré Cool. Avec des dizaines de millions d'albums vendus partout dans le monde et huit opus à son actif, le trio est une des formations punk-rock les plus populaires de sa génération.
Début octobre le groupe a donné deux gigantesques concerts en France, notamment à Toulouse et à Paris. Il se murmure désormais qu'il pourrait être de retour en juin prochain au Parc des Princes, information pour le moment non officielle et n'ayant encore été ni démentie, ni confirmée.
Découvrez ou redécouvrez les trois autres extraits de l'album 21st Century Breakdown :
Green Day – « Know Your Enemy »

Green Day – « 21 guns »

Green Day – « East Jesus Nowhere »