A défaut d'un nouvel album original, Depeche Mode lâchera 'Remixes 2 : 81-11', une compilation regroupant des remixes inédits ou déjà existants sur les différents singles du groupe. L'opus succèdera ainsi dignement à 'Remixes 81-04', paru en 2004.
'Remixes 2 : 81-11' couvrira l'ensemble de la discographie de la bande à Dave Gahan, de son premier disque, 'Speak and Spell', édité en 1981, à 'Sounds of the Universe', sorti en 2009. On notera ici surtout les participations d'Alan Wilder et Vince Clarke, présents lors de la formation de Depeche Mode au début des années 80.
La compilation verra le jour le 6 juin prochain. L'album sera disponible en deux versions CD (simple et triple), en téléchargement légal et en une édition coffret de six maxis vinyles.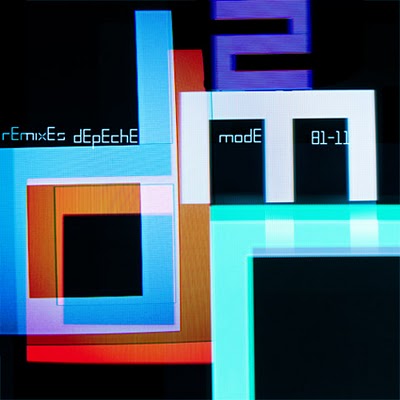 Tracklisting de 'Remixes 2 : 81-11' :
CD simple
01. Dream On — Bushwacka Tough Guy Mix Edit (2001)
02. Personal Jesus — The Stargate Mix (2011)
03. Suffer Well — M83 Remix (2006)
04. John The Revelator — UNKLE Reconstruction (2006)
05. In Chains — Tigerskin's No Sleep Remix Edit (2011)
06. Peace — SixToes Remix (2009)
07. Tora! Tora! Tora! — Karlsson And Winnberg (from Miike Snow) Remix (2011)
08. Never Let Me Down Again — Eric Prydz Remix (2011)
09. I Want It All — Roland M.Dill Remix (2011)
10. Wrong — Trentemøller Remix (2009)
11. Puppets — Röyksopp Remix (2011)
12. Everything Counts — Oliver Huntemann And Stephan Bodzin Dub (2006)
13. A Pain That I'm Used To — Jacques Lu Cont Remix (2005)
CD triple
CD 1
01. Dream On — Bushwacka Tough Guy Mix (2001)
02. Suffer Well — M83 Remix (2006)
03. John The Revelator — UNKLE Reconstruction (2006)
04. In Chains — Tigerskin's No Sleep Remix (2009)
05. Peace — SixToes Remix (2009)
06. Lilian — Chab Vocal Remix Edit (2006)
07. Never Let Me Down Again — Digitalism Remix (2006)
08. Corrupt — Efdemin Remix (2009)
09. Everything Counts — Oliver Huntemann And Stephan Bodzin Dub (2006)
10. Happiest Girl — The Pulsating Orbital Vocal Mix (1990)
11. Walking In My Shoes — Anandamidic Mix (1993)
12. Personal Jesus — The Stargate Mix (2011)
13. Slowblow — Darren Price Mix (1993)
CD 2
01. Wrong — Trentemøller Club Remix (2009)
02. World In My Eyes — Dub In My Eyes (1990)
03. Fragile Tension — Peter Bjorn and John Remix (2009)
04. Strangelove — Tim Simenon/Mark Saunders Remix (1998)
05. A Pain That I'm Used To — Jacques Lu Cont Remix (2005)
06. The Darkest Star — Monolake Remix (2006)
07. I Feel You — Helmet At The Helm Mix (1993)
08. Higher Love — Adrenaline Mix Edit (2004)
09. Fly On The Windscreen — Death Mix (1985)
10. Barrel Of A Gun — United Mix (1997)
11. Only When I Lose Myself — Dan The Automator Mix (1998)
12. Ghost — Le Weekend Remix (2009)
CD 3
01. Personal Jesus — Alex Metric Remix Edit (2011)
02. Never Let Me Down Again — Eric Prydz Remix (2011)
03. Behind The Wheel — Vince Clarke Remix (2011)
04. Leave In Silence — Claro Intelecto 'The Last Time' Remix (2011)
05. In Chains — Alan Wilder Remix (2011)
06. When The Body Speaks — Karlsson And Winnberg Remix (2011)
07. Puppets — Röyksopp Remix (2011)
08. Tora! Tora! Tora! — Karlsson And Winnberg (from Miike Snow) Remix (2011)
09. Freestate — Clark Remix (2011)
10. I Want It All — Roland M. Dill Remix (2011)
11. A Question Of Time — Joebot Presents 'Radio Face' Remix (2011)
12. Personal Jesus — Sie Medway-Smith Remix (2011)