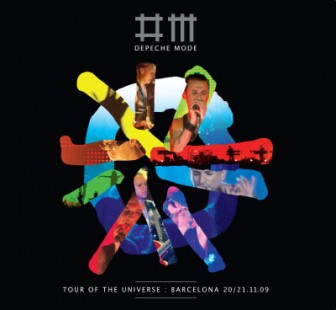 Excellente nouvelle pour les fans de Depeche Mode surtout pour ceux qui n'ont pas pu voir le groupe lors de son passage en France l'année dernière.
La bande à Dave Gahan a fait filmé sa prestation barcelonaise lors de sa dernière tournée mondiale, Tour of The Universe, et s'apprête à sortir ces images en DVD le 8 novembre prochain. Rappelons que la tournée faisait suite à la sortie de l'album 'Sounds Of The Universe' en 2009.
Intitulé 'Tour of the Universe – Live in Barcelona', le DVD reprendra plus précisément des extraits des deux concerts au Palau Sant Jordi de Barcelone au mois de novembre 2009. Il sera proposé en trois formats :
Super deluxe 4-disc version (2 DVDs + 2 CDs)
Deluxe version (1 DVD + 2 CDs)
Blu-ray version
Le tracklisting de 'Tour of the Universe – Live in Barcelona' :
DVD 1 :
01. In Chains
02. Wrong
03. Hole To Feed
04. Walking In My Shoes
05. It's No Good
06. A Question Of Time
07. Precious
08. Fly On The Windscreen
09. Jezebel
10. Home
11. Come Back
12. Policy Of Truth
13. In Your Room
14. I Feel You
15. Enjoy The Silence
16. Never Let Me Down Again
17. Dressed In Black
18. Stripped
19. Behind The Wheel
20. Personal Jesus
21. Waiting For The Night
–Bonus tracks :
World In My Eyes
Sister Of Night
Miles Away / The Truth Is
One Caress
DVD 2 (éditions Super Deluxe et Blu-ray) :
—Inside The Universe – Documentaire sur la tournée (avec sous-titres).
–Tour Of The Universe / Screens (vidéos des projections réalisées par Anton Corbijn)
In Chains
Walking In My Shoes
Precious
Come Back
Policy Of Truth
Enjoy The Silence
Personal Jesus
–Tour Of The Universe / Répétitions
Wrong
Walking In My Shoes
–Bonus tracks
Insight
Hole To Feed
Behind The Wheel
Never Let Me Down Again
–Sounds Of The Universe / Vidéo-clips
Wrong
Peace
Hole To Feed
Fragile Tension
CD1 et 2 :
01 In Chains
02 Wrong
03 Hole to Feed
04 Walking in My Shoes
05 It's No Good
06 A Question of Time
07 Precious
08 Fly on the Windscreen
09 Jezebel
10 Home
11 Come Back
12 Policy of Truth
13 In Your Room
14 I Feel You
15 Enjoy the Silence
16 Never Let Me Down Again
17 Dressed in Black
18 Stripped
19 Behind the Wheel
20 Personal Jesus
21 Waiting for the Night