Alors que la mode est la distribution pseudo gratuite de sa musique sur internet, Sonic Youth ne nous déçoit pas et continue d'être à contre-courant en optant pour une distribution atypique de sa compilation « Hits are for Squares ».
En effet, cette compilation sera vendue exclusivement dans les Starbucks :).
Autre particularité croustillante : les morceaux ont été sélectionnés par une dizaines d'artistes prestigieux, tous fans de Sonic Youth : Eddie Vedder, Dave Eggers, David Cross, and Chloë Sevigny, Radiohead, Beck, the Flaming Lips, Mike Watt, Flea, Mike D et Gus Van Sant. Wow, on savait que Sonic Youth avait beaucoup d'amis stars, mais là c'est une belle brochette ;).
A noter pour les fans de Sonic Youth que la bande à Kim et Thurston sera présente en France au festival Escales, à Saint-Nazaire, France – le 8 aout ;).
——
TroyB !!!
——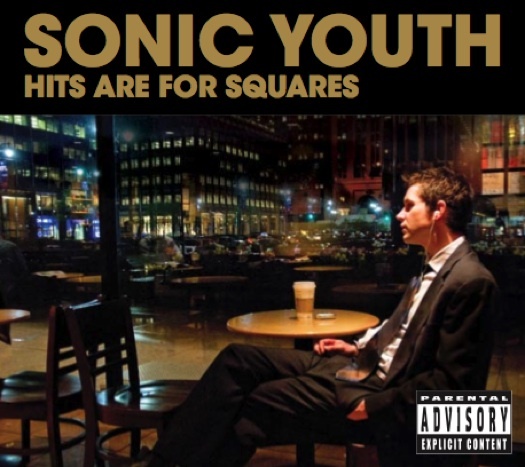 Pochette de la compil « Hits are for Squares » de Sonic Youth
Chansons présentes sur la compilation Hits are For Squares :
01 Bull in the Heather [Choisie par Catherine Keener]
02 Sugar Kane [Choisie par Beck]
03 100% [Choisie par Mike D]
04 Kool Thing [Choisie par Radiohead]
05 Disappearer [Choisie par Portia de Rossi]
06 Stones [Choisie par Allison Anders]
07 Tuff Gnarl [Choisie par Dave Eggers and Mike Watt]
08 Teenage Riot [selected Eddie Vedder]
09 Shadow of a Doubt [Choisie par Michelle Williams]
10 Rain on Tin [Choisie par Flea]
11 Tom Violence [Choisie par Gus Van Sant]
12 Mary-Christ [Choisie par David Cross]
13 World Looks Red [Choisie par Chloë Sevigny]
14 Expressway to Yr Skull [Choisie par the Flaming Lips]
15 Slow Revolution [exclusive]