Officiellement morts en 2005 lors de leur dernier concert à San Diego, les Rocket From The Crypt, groupe au Punk-Rock énergique mélangeant guitares et cuivres, nous manquent terriblement !
Et d'après le titre du nouvel album live « R.I.P. », nous ne sommes pas prêts de voir la reformation des Rocket From The Crypt (RFTC) !
Le coffret de R.I.P. est donc un album live qui fait office de Best Of.
Composé d'1 CD et 1 DVD, RIP nous fait revivre en son et lumière le dernier concert des RFTC ! Quand on sait que toute la puissance du groupe se développait en concert, ça donne envie !
Comme vous pourrez en juger sur la vidéo ci-dessous, ce dernier concert a eu lieu le jour d'Halloween… et ça se voit aux costumes du groupe :).

Vidéo trailer du DVD « Rocket From The Crypt – R.I.P. », avec un Speedo en forme sur « I'm Not Invisible » 🙂 !
Pour les fans de Speedo, alias John Reis ex-chanteur des Rocket From The Crypt, sachez qu'il a un nouveau groupe qui s'appelle « The Night Marchers », et qu'il vient tout juste de sortir un album !
Il a formé ce groupe avec ses amis Gar Wood (Hot Snakes, Beehive & The Barracudas), Jason Kourkounis (Hot Snakes, Mule, Delta 72) et Tommy Kitsos (CPC Gangbangs).
En attendant, l'album live « RIP » des RFTC est une bonne nouvelle, un incontournable pour tous les fans 😉 !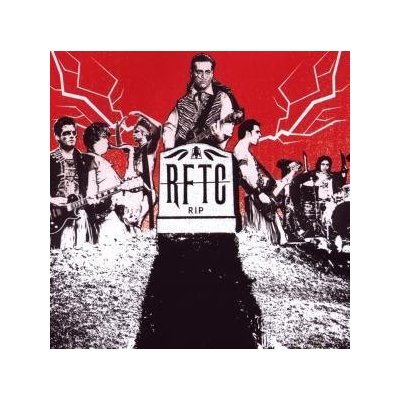 Pochette R.I.P. album live « best of » des Rocket From The Crypt
Chansons sur R.I.P., le best-of des Rocket From The Crypt (RFTC)
1. Intro
2. French Guy
3. Don't Darlene
4. I'm Not Invisible
5. Get Down
6. Boychucker
7. Pigeon Eater
8. Used
9. Hairball Alley
10. Shy Boy
11. Velvet Touch
12. Light Me
13. A+ On Arson Class
14. Middle
15. Born In '69
16. Straight American Slave
17. Carne Voodoo
18. Sturdy Wrists
19. Ditch Digger
20. Come See Come Saw
Discographie des Rocket From The Crypt (RFTC)
1991 Paint as a Fragrance
1992 Circa: Now!
1995 Hot Charity
1995 Scream, Dracula, Scream!
1998 RFTC
2001 Group Sounds
2002 Live from Camp X-Ray
2008 R.I.P Album live