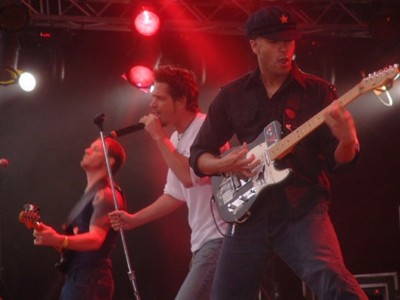 ChrisCornell (né Christopher John Boyle le 20 juillet 1964à Seattle), est un guitariste etcompositeur-interprète connu pour avoir été lechanteur de Soundgarden.
Il a égalementfondé en 1990 le projet Temple of the Dog (formation avecdes membres de ce qui deviendra PearlJam) le temps d'enregistrer un disquehommage à Andrew Wood, chanteur décédéde Mother Love Bone.
À la séparation de Soundgarden en 1997, ilfait carrière en solo (Euphoria Morning) avantde rejoindre Audioslave en 2001, groupe formé des musiciensde Rage Against theMachine (Tom Morello a la guitare, Brad Wilk à la batterieet Tim Commerford à la basse). Malgrèsd'excellentes ventes, le groupe se sépare en février2007.
En 2006, il signe le titre You Know My Name,musique originale du film James Bond : Casino Royale ainsi queDisappearing Act, musique originale du filmBug.
Chris Cornell se concentre ensuite sur sondeuxième album solo "Carry on" sorti en juin2007